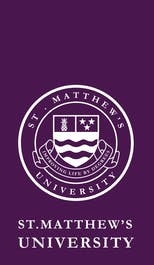 When you study medicine in Grand Cayman at St Matthew's University, you will receive the very best education. If you aspire to become a doctor or a vet, studying with SMU is your first step in the right direction so that you can thrive in your medical career.
Why St Matthew's University?
Student-focused teaching: Small classes allow you to build good relationships with your teachers. Extra support is available if you might need.
Affordability: Our programs are more affordable when compared with US and Canadian medical and veterinary colleges.
Excellent facilities: SMU has a state-of-the-art campus including a range of classrooms, laboratories,
Consistently high results: Between 2015-2019, 95% of our students passed the USMLE Step 1 on their first attempt. 92% of our students passed the NAVLE on their first try in 2017.
Great location: Study on a safe island with a peaceful atmosphere and few distractions.
Clinical rotations: Our students attain placements at premier clinical training sites across the US and Canada.
Student mentors: We provide student mentors to ensure you settle into life at SMU.
Study Medicine in Grand Cayman
Course Duration: 4 Years
Semesters 1-5 on campus (2 years)
Semesters 6-10 Clinicals (2 years)
Semester 1
Your first semester will focus on the basics of cellular biology, histology and gross anatomy. You will also start thinking about patient-doctor relations as well as how research is conducted in a clinical setting.
Semester 2
During your second semester, you will consider the body's molecular building blocks in terms of biochemistry, physiology, epidemiology and medical genetics.
Semester 3
Your third semester will be committed to helping you learn about what makes us healthy and unhealthy as well as legal ethics and medical psychology.
Semester 4
You will start to build up your knowledge of disease and how pharmacology is used to counter it. This semester will include the third instalment of the patient-doctor relations module helping you to develop your skills in taking a patient's history.
Semester 5
Semester 5 will be committed to preparing you for the USMLE Step 1. As such, you will learn more about disease in pathology. Once you have completed your five semesters on Grand Cayman, you will leave the island to complete your clinicals and then secure a residency in the US, Canada or further afield should you wish to. This will give you an opportunity to practice the skills you have learned with SMU and start focussing on the specialty you have picked.
Study Veterinary Medicine in Grand Cayman
Semester 1
This semester will focus on building your knowledge of basic anatomical concepts. You will also study veterinary histology, embryology, physiology and immunology. The semester includes a Professional Development module where you will discuss pressing issues within the field of veterinary medicine.
Semester 2
In Semester 2, you will continue to build your knowledge of veterinary anatomy and physiology and start focussing on veterinary parasitology. You will also begin studies in bacteriology and mycology.
Semester 3
Investigate how veterinary illnesses are treated. Apply pharmacology while also looking at pathology, virology and epidemiology. The Professional Development module will help you prepare your resume as well as cover letters to employers.
Semester 4
You will continue to learn about veterinary pharmacology and pathology. You will also study veterinary ethics and communication to learn about the laws that govern veterinary practices.
Semester 5
In your fifth semester on Grand Cayman you will study veterinary anesthesiology, surgery, toxicology, diagnostic imaging, clinical nutrition and theriogenology.
Semester 6
During this semester, you will consider small animal medicine, food animal medicine and surgery as well as exotic companion animal medicine. You may also take an elective module in either Aquatic Animal Medicine or Zoo, Wildlife Medicine. You will also have your third Clinical Skills module where you will consider taking histories and writing up medical records.
Semester 7
In your final semester you will study small animal medicine, small and large animal surgery whilst also taking your final professional development module.
Tuition
Medical Course: $16,075 per semester (semesters 1-5)
Veterinary Course: $20,650 per semester (semesters 1-5)
Start Dates
January, May, September
Entry Requirements
Overall and science GPA's; MCAT scores (required of citizens and permanent residents of US); references; personal statement; demonstrated service to community.
General Biology 1 Academic Years (AY), 6 Credit Hours (CH) (May substitute a semester of Biochemistry.)
Organic Chemistry ½ AY, 3 CH (May substitute a semester of Biochemistry.)
Biochemistry½ AY, 3 CH
General Chemistry 1 AY, 6 CH 1 (May substitute a semester of Biochemistry.)
Language Arts(English) ½ AY, 3 CH (May substitute any course with a writing component.)
College Math or Computer Science½ AY, 3 CH
Medical College Admission Test (MCAT) is required for all applicants who are U.S. citizens, nationals, or permanent residents.
English Proficiency – Since English is the language of instruction at Medical University of the Americas, it is important that applicants be prepared academically to pursue the curriculum and also be able to communicate well.